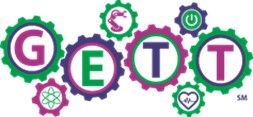 GETT is a program for girls in grades 5 through 10 which began in 2001 as a response to the under-representation of young women in the computer and information technology fields. Started up in Chester County, Pennsylvania, the all volunteer organization GETT has now expanded to include students from all around Southeastern Pennsylvania and to showcase the fields of Science, Technology, Engineering, and Math (STEM).  The aim is to have fun with science, to show the practical application of technology, and to spark girls' interest in STEM careers.
The WC-CC AAUW branch is a pioneer sponsor of GETT, supporting the effort since its inception.  Every year GETT sponsors a STEM Expo, and this year the girls could explore more than 100 hands-on activities.  Our AAUW branch always creates and runs a fun technical activity at the STEM Expo. This year the focus of our activity was on genetic information: DNA, chromosomes, genes, and genetic traits.
248 girls who stopped by our table extracted strawberry DNA and tested themselves for the TAS2R-38 gene. This gene encodes a seven-transmembrane G protein-coupled receptor that controls the ability to taste glucosinolates, a family of bitter-tasting compounds found in certain plants.  134 of our budding scientists tested positive for the TAS2R-38 gene and tasted the bitter compound,  114 tested negative for the TAS2R-38 gene and were UNABLE to taste the bitter compound.  See the poster representation of the importance of DNA to our traits and in personalized medical treatment and learn more about cool facts about DNA with this Strawberry DNA handout.
Thanks to all who supported the program and to all the girls, parents, teachers, and mentors who joined the adventure this year.
Learn more about Girls Exploring Tomorrow's Technology and find great resources at https://gettpa.org/ and follow them on social media: GETT on Facebook
Check out the GETT's 20th Anniversary Video Series at https://gettpa.org/gett-goes-virtual/
Website: The STEM jobs everyone wants and how to get them.