The AAUW Pennsylvania Gateway to Equity Award honors an individual, group or organization that has shown by action and philosophy the promotion of the AAUW mission to advance gender equity for women and girls through research, education, and advocacy.  Each year the West Chester – Chester County branch of the AAUW selects a different honoree and channels our creative resources to provide the support most helpful to them.
For 2021-2022 we are supported Home of the Sparrow of Exton PA whose goal is to end homelessness for women and children.  Partnering with women facing homelessness and local organizations, Home of the Sparrow works  to provide a safety net for single women, mothers, and their children in Chester County. They bring organizations and people together to solve the problem of homelessness and to create better futures for women and children.  Programs include facilitating access to: secure housing, providing education and training to support employment opportunities and financial stability, and various forms of networking to fill short term and long term needs. Learn more at https://www.homeofthesparrow.org/
Our AAUW Branch fund drives for Home of the Sparrow over the past year included:
Put on a Happy Face: Collection of Personal Care products to help build morale of Home of the Sparrow clients through "luxury items" such as nail care products, make up and hair clips.
Warm up Winter: providing winter coats for children (and a few moms) where thin budgets wouldn't stretch far enough for new clothing this year.  We matched clients' needs with our members in our Coat Tree drive.  Our generous members donated 41 winter coats to help Home of the Sparrow clients.
Power of the Purse: AAUW Member Sandra Harrelson modeled beautiful outfits at the Home of the Sparrow fashion show, an annual event to raise operating and outreach funds for Home of the Sparrow. Among supporters attending were twelve members of our branch and over $45,000 was raised by Home of the Sparrow with this Dinner & Fashion event.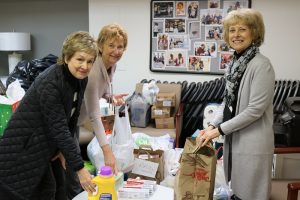 Guided by the Leadership at Home of the Sparrow in determining greatest needs and actionable projects, our members donated a dozen  Thanksgiving turkeys for families in need, a car-load of cleaning and paper products in the "White Out" campaign on Giving Tuesday, and $800 worth of gift cards in time for holiday shopping at local grocery and department stores.
We look forward to a few more fun adventures in support of Home of the Sparrow and we thank all branch and community members for your support of our efforts for this fine non-profit organization.