Legislation and Public Policy (LAPP)
Panel Discussion: Follow the Money to School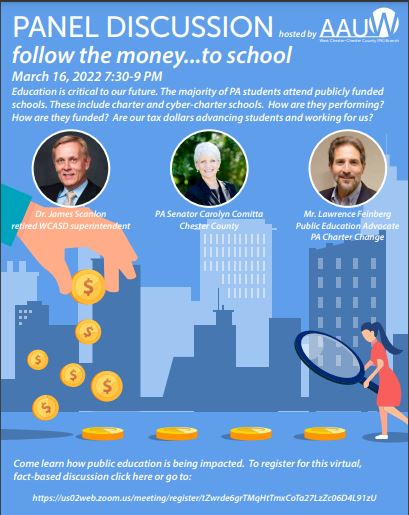 Click image for more information.
Get regular alerts to be able to take timely action by sending emails and texts to your legislators to fight for equal pay, family leave, stopping sexual harassment, equality in education and more.
LAPP hosted Fair Districts PA Speaker Charlie Day on March 31
A Virtual Presentation on Creating Fair Voting Districts……Democracy means voters choose their politicians. Current Pennsylvania law lets politicians choose their voters. Gerrymandering: the practice of manipulating voting districts to benefit parties, not people. The result is voters have less voice and less choice, and leads to further polarization instead of problem solving in Harrisburg and Washington. Registration is now closed, but it is possible to view a recording of the presentation here.
Local Issues
Our AAUW LAPP committee is focusing on 2 issues of fairness:  fairness in redistricting and fairness in supporting education.
Governor Wolf wants to create a new program – the Nellie Bly Scholarships – for 44,000 students attending PASSHE schools so more students can attend college and graduate without crushing debt. Click here to contact your legislator to ask that they support education over race horses.
A letter in support of reforms in Harrisburg was published in the Daily Local News! Click here to go to the newspaper.Click here to download a copy of the letter.
Click on the link to learn earn more about redistricting reform at Fair Districts PA.
We Stand United Against Racism
Read about the progress being made here.
League of Women Voters of Chester County PA 
Check out the links to state and local resources here.
AAUW Issues

AAUW's policy work connects and rallies advocates at the local, state, national, and global levels to empower women and girls. With the member-voted Public Policy Priorities as our guide, AAUW uses lobbying and grassroots efforts to push forward policies that break through educational and economic barriers for women. Click here to learn more.