The American Association of University Women (AAUW) West Chester – Chester County Branch is celebrating 60 years of supporting women and girls.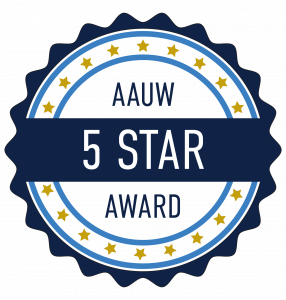 We are proud to be a 3 star branch in the AAUW 5 Star Recognition program.
Founded in 1959, AAUW West Chester-Chester Co., PA Branch, located in Southeastern PA, was organized by faculty from West Chester University (formerly West Chester State Teachers College) and community leaders.
Since its first meeting in 1881, AAUW has been a catalyst for change. Today, with more than 100,000 members, 1,000 branches, and 500 college and university partners, AAUW contributes to a more promising future and provides a powerful voice for women and girls—a voice that cannot and will not be ignored.
AAUW Mission…
AAUW advances equity for women and girls through advocacy, education, philanthropy, and research.
AAUW Value Promise…
By joining AAUW, you belong to a community that breaks through educational and economic barriers so that all women have a fair chance.
AAUW Diversity Statement…
In principle and in practice, AAUW values and seeks a diverse membership. There shall be no barriers to full participation in this organization on the basis of gender, race, creed, age, sexual orientation, national origin, disability or class.
Our Mission Statement…
Actively recruit members who support AAUW goals.
Nurture these members through Special Interest Groups, through monthly meetings with intellectual and social merit, and through member support.
Sponsor at least one project per year with volunteers and with funds to promote AAUW / Branch goals.
Sponsor at least one local scholarship per year for a nontraditional student.
Support programs for training and self-development of Branch members to promote AAUW goals.
Raise funds through community projects and member gifts to support AAUW goals.
To provide or request additional information from the AAUW West Chester-Chester County PA Branch, contact us!
Officers
Co-Presidents
Nancy Paist-Riches
Alice Lenthe
Presidents – Program
Beryl Goldman
Jane McDowell
Co-Vice Presidents – Membership 
Trish Alfano
Ann Anderko
Financial Officer
Jane Schultz
Secretary
Jean Shervais
Robin Paragone
Committees
By Laws
Communications
Fundraising
Girls Exploring Tomorrow's Technology
Handbook
Historian
Local Scholarship
Membership
Newsletter
Outreach
Program
Public Policy
Public Relations
Website