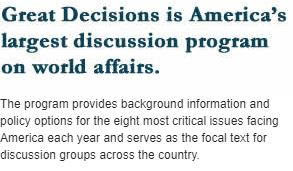 The Branch Great Decisions Group meets  from 1-3 pm on the 4th Monday  of each month at West Chester Diner to discuss topics from the Foreign Policy Association's Great Decisions Briefing Book. Click here for more information about the materials used by the group. Contact Beatriz Wee for more information.
Weather permitting, our summer meeting place may be at an outdoors location such as Longwood Gardens or a member's patio.
The group has will cover these topics in April and May, 2023: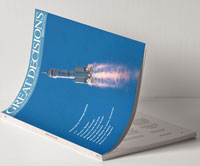 2. War Crimes
Russia's invasion of Ukraine has resulted in widespread charges of war crimes and calls for justice. But what exactly are war crimes? Opinions of what constitutes a war crime have evolved, as have ways to identify and punish the perpetrators. How will the war crimes committed in Ukraine be dealt with?
3. China and the U.S.
For the past ten years, the United States and China have been locked in a competition for who has the greatest global influence. One major point of contention is the status of Taiwanese sovereignty, which has become even more relevant recently with the possibility that Russia's invasion of Ukraine may prompt China to take similar action regarding Taiwan. How will the United States engage a China which is increasingly seeking to expand its sphere of influence?