Laundromat Library League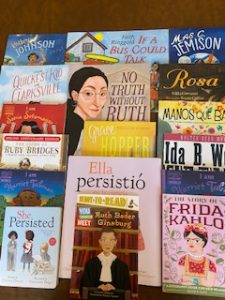 In the effort to honor Women's History Month, the LLL requested donations of books that feature significant women or monetary contributions that would allow the LLL to buy these books at a discount.  Members donated 25 biographical children's books that highlight the achievements of women such as Wilma Rudolph, Ida B. Wells, Frida Kahlo, Katherine Johnson, Harriet Tubman, and so many more.  In addition, members contributed $540 that will enable the LLL to purchase more than 100 books!  Children and, perhaps, their parents and guardians will have the opportunity to learn about these remarkable women.
The LLL's mission is to provide books to children who may have few or no books at home.  These books will entertain, educate, and inspire young emergent readers.