Ayana N. Williams-Smith of Upper Darby is the recipient of AAUW West Chester-Chester County Branch's 2022 Alice Lawson Scholarship in the amount of $3,000.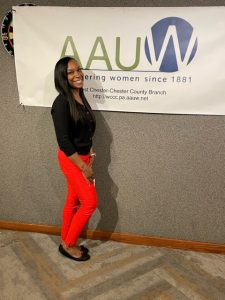 Ayana attends Immaculata University, where she is completing her studies in the Healthcare Management program. Ayana anticipates completing her final six-credits by summer's end. In Ayana's own words, "It has been a long journey!"Alice Lawson Scholarship
Ayana, the mother of a 19 year-old son, completed an Associate in Science Degree in psychology from Delaware Community College in June 2019. Earlier, Ayana received the Holmium Laser certificate in 2010, and was awarded a Surgical Technician Diploma from Harrison Career Institute in 2002. Ayana is presently enrolled in Immaculata University's College of Adult Professional Studies (CAPS) with the goal of earning a Bachelor of Science Degree in Healthcare Management.
After she graduates, Ayana plans to immediately enroll in the Masters of Science Degree program at Immaculate University. Ayana's professional goals include a future in healthcare administration, where she aspires to "bridge the gap between administration and the hospital workers". She hopes to "change the narrative and bring back the thought that everyone is important, and we are a team".
Ayana values education. She acknowledges that going back to school as an adult was and is challenging, but well worth it. Ayana is a remarkable woman, who while working as a surgical tech, managing a home and family, and recovering from COVID-19 maintained an impressive GPA and attained Dean's List status during the spring 2020 and fall 2021 semesters at Immaculata University. Ayana has been inducted into Sigma Alpha Phi (The National Society of Leadership and Success) and Alpha Sigma Lambda (The National Society for Non-Tradition Students). At Mainline Health, Ayana is a member of the DREI Committee (Diversity, Respect, Engagement, Inclusion).
Her academic advisor at Immaculata University, Kate Kearney, said that Ayana is an exceptional student who has balanced the challenges of working in a Level 1 trauma center during the pandemic, while excelling in her classes. Ms. Kearney has no doubt that Ayana will continue to do great things in this world and earning her Bachelor of Science degree is a vital stepping stone on her path forward.
Ayana was introduced at the Spring Soiree held at McKenzie Brew House on Wednesday, May 11, 2022.